Mottatt fra Morten Kværnmoen - LB8DC:
En liten status oppdatering på VK9MA – Mellish Reef.
Vi har nå fått pakket alt utstyret vi skal ha med oss til Mellish. SM5AQD + XYL har stått for denne jobben, og det har ikke vært småtteri de har utført de siste ukene.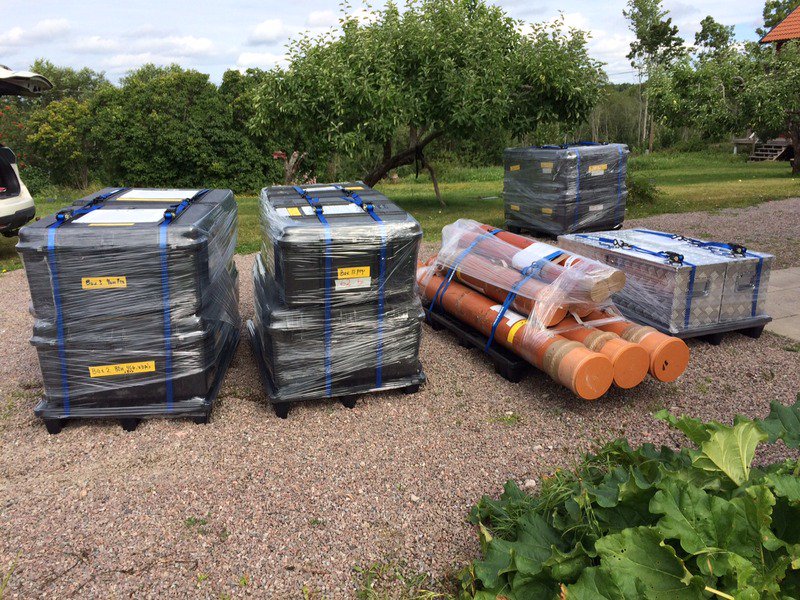 De har vært nede i Tyskland hos DL3DXX Dietmar og hentet masse utstyr som de har transportert med bil og henger til Sverige. Hvor de så har rengjort alt utstyr for smuss og annet som vi ikke vil smitte ned Australia med når vi kommer dit. Det er jo strengt mtp hva en kan ta med seg inn i det landet. Deretter har de pakket ned alt sammen på paller. Dette vil nå bli hentet av Schenker på SM5AQD sitt QTH og transportert til Gøteborg hvor det blir sendt videre i fra. I alt 814 kg med kabler/antenner/filtre m.m.
Hele teamet på 9 mann er nå komplett. Disse er:
Teamleder: N7QT – Rob
Co Teamleader: SM5AQD – Hawk
SM5GLC – Lasse
SM1ALH – Eric
LB8DC – Morten
DX3DXX - Dietmar
N9AGD – Brian
W5XU – David
WJ2O – Dave
Vår schedule blir seende slik ut fremover:
Oct 21st – Rob and possibly Brian arriving in Cairns
Oct 25th – Erik,Lasse,Morten,Hawk arriving in Cairns
Oct 28th – Rest of the team in Cairns
Oct 29th / 30th – Equipment staging/testing at Paul's house, last minute shopping
Nov 1st – In the morning, everyone to help load equipment into truck from Paul's house (VK4APN). After truck is loaded, we all take the charter bus from Paul's house to Port Douglas (1.5 hour ride). When we arrive to Port Douglas, we all will load the equipment onto the MV Phoenix, we depart to Mellish reef in the evening,
Nov 1st – Leave for Mellish Reef
Nov 3rd – Arrive at Mellish Reef in the evening. Get gear onto the reef.
Nov 4th – QRV VK9MA
Nov 15th – Start to take down camp in the afternoon
Nov 16th – Leave Mellish
Nov 19th – Arrive in Port Douglas
Nov 22nd – All return for home
73 de Morten LB8DC